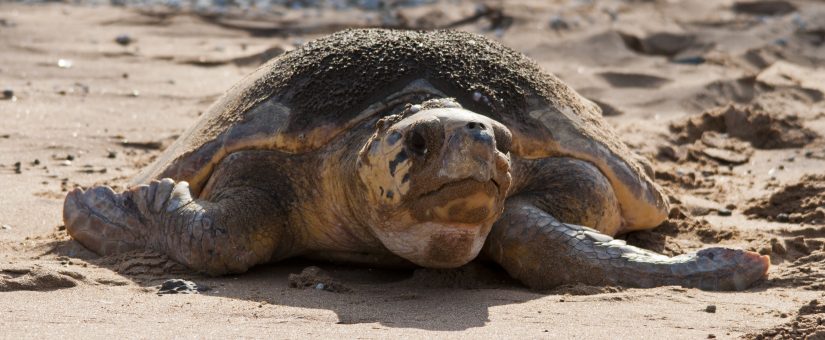 Posted by Ryan Pearson
On July 17, 2020
By Dr Ryan Pearson
In February 2016, a female loggerhead sea turtle dubbed 'Marloo' had a satellite transmitter attached to her shell on a beach south of Exmouth, Western Australia by the Gnaraloo wilderness foundation. Many months, and more than 4000 km's, later she was recovered on an island near Darwin. Aub Strydom found a barnacle growing on top of the satellite tag attached to her. He collected it and sent it to me for analysis.
This opportunistic encounter gave us a unique chance to test if barnacle shell isotopes can predict where the host animal has traveled, as described in our recent paper. Barnacle shells form in layers, like rings in a tree, and each layer stores information about the surrounding conditions at the time of formation.
We were able to sample barnacle shell material that formed at specific times and locations along Marloo's migration route. We analysed the isotopes of Carbon and Oxygen alongside the water temperature and salinity that were present from those same locations and times. By developing regionally relevant mathematical models that described the relationships between these parameters we were able to create time specific maps of barnacle shell isotopes (isoscapes). These isoscapes show the isotope values that would be expected in shell material formed at each location at that time. This forms a picture of where the barnacle was at the time each layer formed, and therefore also where the host turtle was swimming.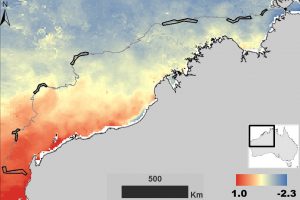 Marloo's migration track overlaid upon an isoscape generated from her data
By collecting additional barnacle shells from turtles in the region, dating each sub-sample, and measuring the oxygen and carbon isotope values contained within, we can how predict where the shell formed by comparing values these (or similar) isoscapes. This provides power for managers to relatively cheaply estimate where nesting sea turtles come from and the migration pathways they take. Additional knowledge of this type can be vital for conservation efforts by identifying where threats overlap with turtle use areas and then channel conservation efforts to where they are needed most.
Until now, barnacle shell isoscapes have relied on generalised understandings across broad (sometimes global) scales. So if it weren't for this chance encounter between Aub and Marloo at the end of her return migration, we may yet be a long way off developing this style of precise, regionally specific, isoscape.