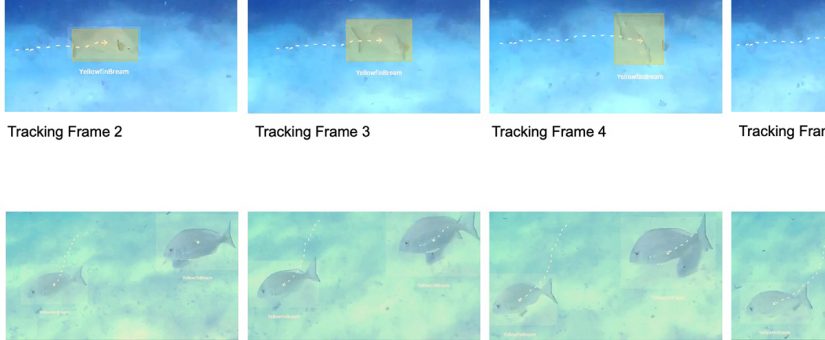 Posted by Natasha Watson
On May 28, 2021
By Sebastian Lopez
Automated and remote techniques are becoming more common in management and conservation of the environment. These techniques can provide us with Big Data required to understand the complex interactions and behaviour that occur in the natural world. In marine ecosystems, the application of automated techniques is challenging due to the variable and changing environmental conditions. For example, water turbidity changes with tides and the accuracy of visual systems decreases. However, with advances in computer vision, we are now able to expand our monitoring capacity and collect data in ways that were not previously possible.
In a new paper published in Ecology and Evolution, we showed that automated fish tracking in underwater ecosystems is possible. With a 91% fish detection accuracy and 84% tracking accuracy, our pipeline can track many individuals across visibility gradients.
As an open-access paper, our research can aid in the uptake of automated techniques into aquatic conservation. Moreover, we have made available all our training images and annotations, movement dataset annotations, images and videos, and tracking and data wrangling scripts. This information can be found here.
With this new generation of methods for collecting and analysing movement data, we can:
1. Increase our monitoring and reporting efficiency from underwater footage.
2. Complement traditional data collection techniques.
In our case, the combination of automated fish detection and fish tracking has the capacity to provide several streams of ecological information that can inform data-driven decisions that directly influence the health and productivity of marine ecosystems. Learn more about FishID, an automatic platform for fish species identification and abundance quantification.