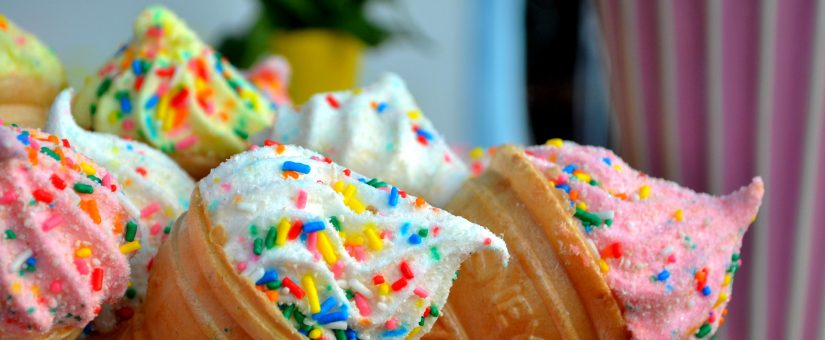 Posted by Tom Rayner
On October 16, 2019
Under pressure
Researchers and natural resource managers are under pressure to communicate their work. That includes summarising key outcomes for policy and decision-making, relaying concerns and opportunities to community groups, campaigning for funding to address critical knowledge gaps and supporting their own careers.
Researchers and managers need support. Organisations such as government departments and universities endeavour to provide this, through training workshops, professional development planning and workload management, and by hiring science communication professionals. In some cases, this works well; in others it fails to meet the true needs of these busy professionals.

Top-down fix?
The top-down provision of resources and recognition is slow. The process is a terrain of ambiguity and anxiety for executives leading these organisations, whom themselves are faced with significant social, cultural and political challenges in the communications space. Many are torn between maintaining the status quo that protects the livelihoods of their staff and empowering their charges with the collective capacity to own their voice.
Researchers and managers are often left to do it themselves. Facing the pressure to communicate, these scientists, staff and students are looking for way to either begin communicating their work or communicate it more effectively – to generate 'cut-through' that connects with their critical stakeholders.
They typically begin using communication tools. They might build a website for their project or start using social media. However, they rarely have the time and headspace to stop and think about the goals behind what they're doing. The result is a lot of communication efforts that lack the strategic thinking required to generate the cut-through that they're seeking. This causes frustration – communicating feels like extra work that is, honestly, not worth the hassle. So, what can they do?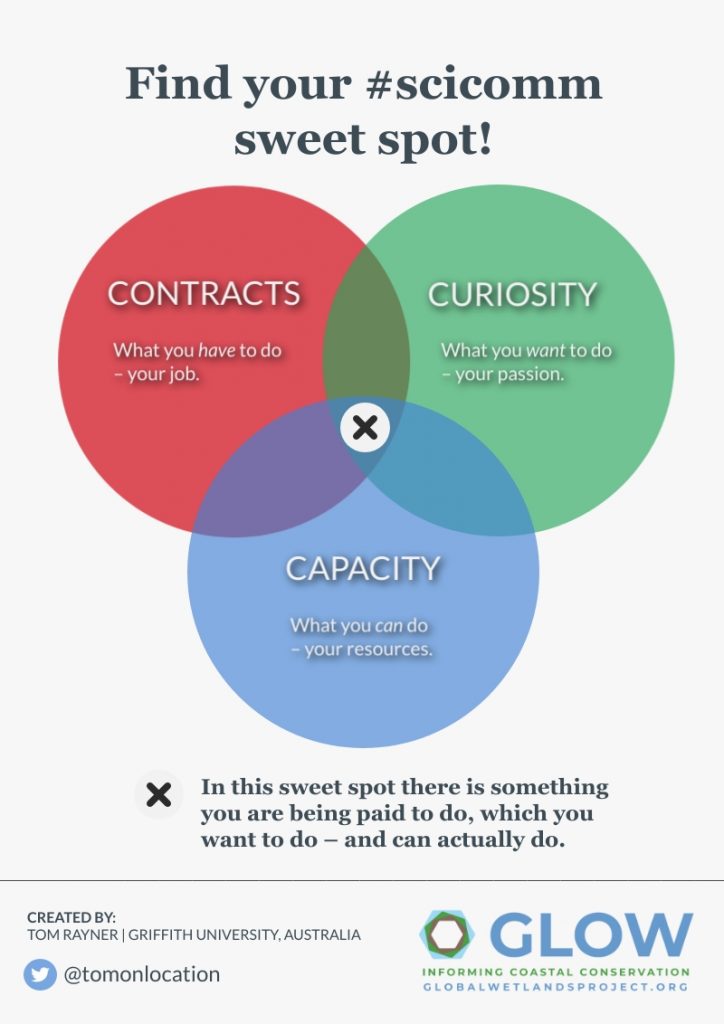 Finding the sweet spot
The key is to find your science communication sweet spot. This lies at the intersection of three components: contracts, curiosity and capacity.
Contracts are the things we have to do. We all have bosses and reporting requirements. Many of these are non-negotiable. In fact, some may be legislative or literally contractual obligations. Others might be promises we've made to ourselves or aspirations we have for our careers.
Curiosity is what we want to do. It's the reason we got into science. It's the passion that ignites that fire of determination to find answers to the questions that pique our interest and haunt our sleep. Hopefully, there is an overlap between this curiosity and our contracts. Hopefully, part of our work is something that we feel refreshed and inspired to pursue, despite the annoying bits.
Capacity is what we can do. This is our time, our budgets and our reputation – what we have and are willing to invest. This goes beyond material resources and to the heart of communication. Do we want to be the face of the project? Is that even appropriate? If so, do we feel comfortable putting ourselves in that position – in front of the camera, for example? If not, that's ok, but we need to be realistic about what's feasible.
At the centre of contracts, curiosity and capacity is a sweet spot. This is something you are being paid to do, which you want to do and can actually do. Here lies the authentic voice that allows us to engage in genuine science communication that reflects our personal and project goals. This is where we can say what we mean and mean what we say. This is where we can contribute in a way that is smart and sustainable.