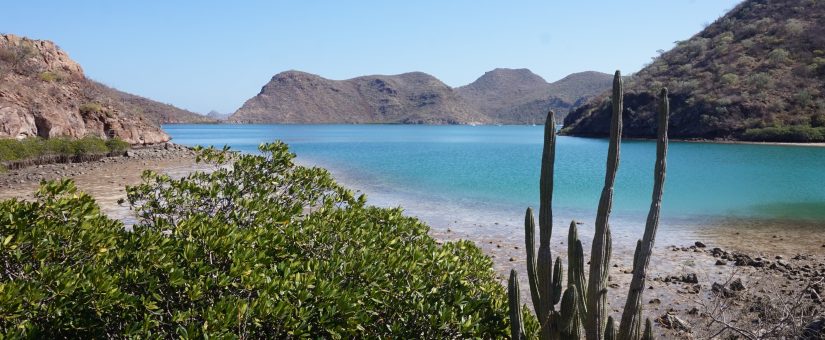 Posted by Ellen Ditria
On May 19, 2020
By Dr. Fernanda Adame and Dr. Mischa Turschwell
If you ever fly over a subtropical coast, where the desert meets the ocean, you will notice a stripe of bright green bordering the edges of meandering creeks. The greenery contrasts with the orange, yellow, and red of the surrounding desert. In this seemingly inhospitable landscape, where the salinity of the water can double that of the ocean, the temperature fluctuates between zero and 40°C, and where the soil is poor in nutrients, mangroves can thrive.
Mangroves in arid regions live at the extremes of their physiological limits, and only a few species can survive the challenge. The grey mangrove (Avicennia) is usually a dominant species in these forests; they have adapted to live in environments with high salinities, low humidity, and sporadic freshwater flows. They form dense forests of small trees, which sometimes can be less than half a meter tall.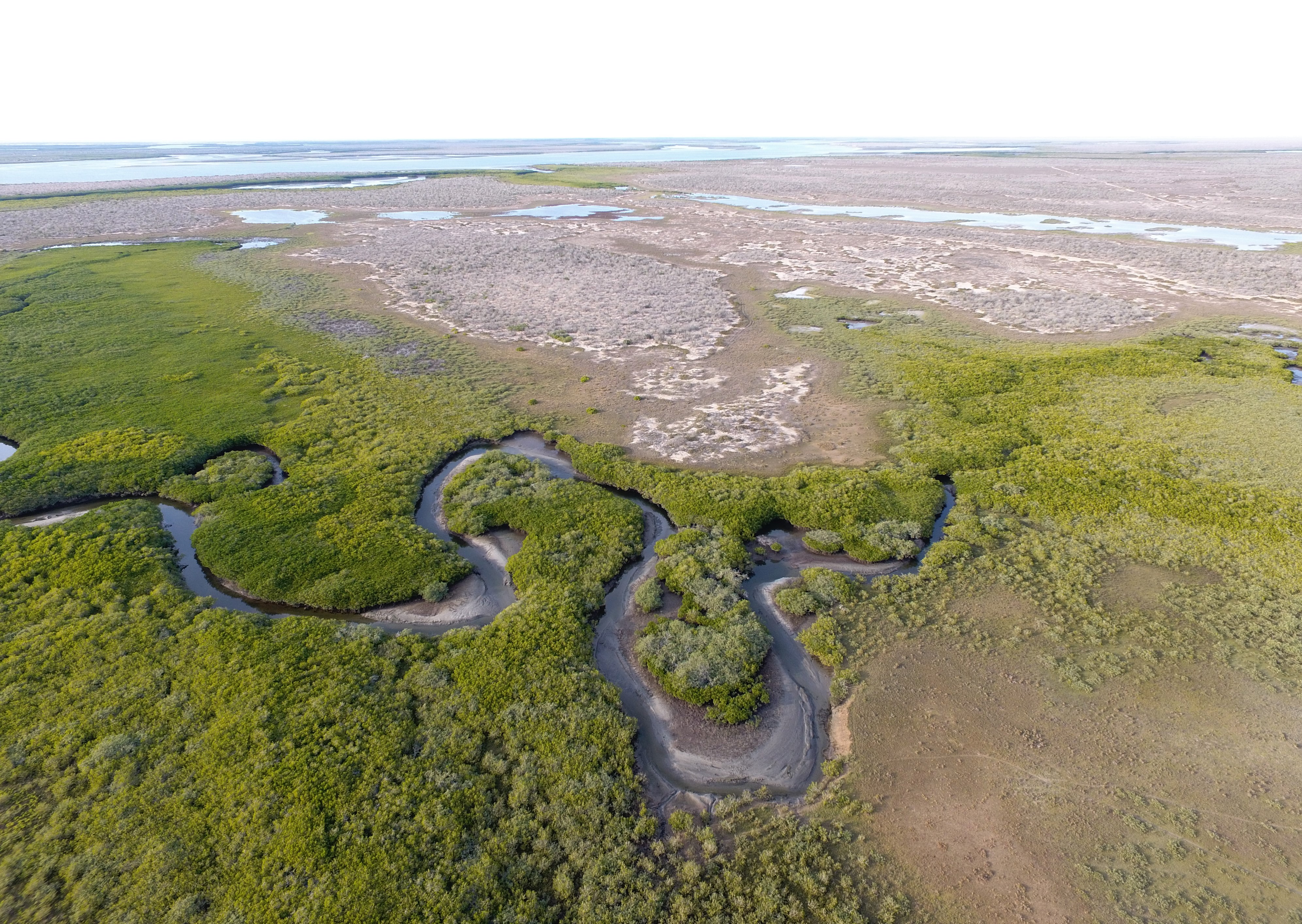 These unique forests take advantage of nutrients whenever they can, especially during sporadic tropical storms, where freshwater flows can boost their productivity. The rest of the year, they tend to grow slower than mangroves in wetter regions, but they can still accumulate large amounts of carbon in their soil. The amount of carbon that mangroves have is over 20 times larger than the adjacent desert. Within large areas of sparse vegetation, mangroves in the desert are usually the only option for many countries or regions to participate in carbon mitigation strategies, such as carbon markets or REDD+ (Reduction Emissions from Degradation and Deforestation). Unfortunately, because of their low stature, they are under-represented in maps and assessment programs, as "forests" tend to be defined as trees higher than 2 m tall.
Strategies to recognise, protect, and restore mangroves could result in financial benefits for people living in these arid regions. Restoring mangroves in arid climates should focus on restoring natural flows and planting tolerant mangroves such as the grey mangrove. Planting species not adapted to deal with arid environments could result in large-scale restoration failures.
Because of the lack of freshwater, deserts are sparsely populated, thus mangroves in arid regions are subject to relatively low human impact. However, they can still be highly threatened and rapidly degrade if conditions change. For instance, a decrease in groundwater levels, or an increase in water pollution, could easily push these trees outside their tolerance limits, resulting in massive diebacks. Also, because of the low species diversity, these forests are less resilient to change compared to multi-species forests.
Mangroves in arid climates can be found all over the world; in the Gulf of California in Mexico, the Middle East, western Australia, subtropical Africa, and western South America. These forests provide disproportionately high levels of regional ecosystem services, supporting fisheries, biodiversity, and carbon sequestration.
Let's protect these mangroves and keep these oases alive.
For our full manuscript see:
Adame MF, R Reef, NS Santini, E Najera, MP Turschwell, MA Hayes, P Masque, CE Lovelock. 2020. Mangroves in arid regions: Ecology, threats, and opportunities. Estuarine Coastal and Shelf Science
MMM5 Special Issue: Mangroves and People