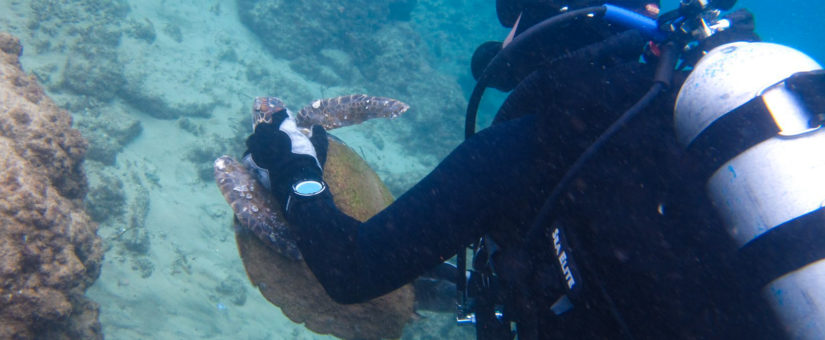 Posted by Ryan Pearson
On April 26, 2019
Sea turtles are threatened. Literal boat loads of things affect their already low survival rates, most attributable to humans. Plastics, fishing entanglements, temperature increases, habitat degradation and actual boat strikes are killing turtles and affecting their populations in many other ways. Ultimately threatening their very existence.
Knowing this, when my buddy Dr Michael Sievers and I encountered a very weak and skinny green turtle (Chelonia mydas) on a recent SCUBA dive, I ignored any thoughts I had about natural selection and chose to help it out. Because, let's face it, if humans are causing the problem, we should occasionally try to shift the trend in the other direction.
This young green turtle was clearly underweight and not behaving how healthy turtles should. In fact, it wasn't behaving at all. After Michael and I got close enough to take some photos, it hadn't moved. Hadn't even batted an eyelid. So I reached out and touched its flipper. It still didn't react. For a moment I thought it was dead, so I tried moving it a little, which is when it decided to try swimming away.
Now, my PhD focused on sea turtles, so I've captured many of them and know how they should behave. This one, in trying to swim away couldn't even break the grip between my thumb and forefinger. It was very weak and likely sick, so I chose to remove it from the water and take it to the rehab centre at Sea World Research & Rescue in the hope they could help it recover.
We still don't know exactly what was wrong. It had no visible signs of injury, so it's likely something was going on internally. Maybe it was diseased? Unable to eat? Ingestion of plastics or degradation to coastal wetland habitats (because they primarily eat seagrass) come to mind as other possible causes.
It is the answers to these sorts of questions that can really help manage threats to sea turtle populations. One problem, however, is that often we don't even know where many sea turtles spend their lives – because they may migrate thousands of kilometres to reach the places we most commonly encounter them: nesting beaches.
So how do we prioritise and manage threats in places we can't find? Well, an obvious start would be to actually find out where most turtles spend their lives. We may then be able to identify and prioritise areas for management action. Until recently, this has been difficult for several reasons.
Our latest research paper presents a technique that dramatically increases the number of turtles we can 'track' back to their home areas, for a fraction of the cost of other techniques. We do this by assessing the chemistry (stable isotopes) of barnacle shells that grow on sea turtles. This novel approach holds promise for identifying the home areas of sea turtles throughout the world.
Could this technique have helped the little green turtle? No, probably not directly, but in the future it certainly could help us protect foraging areas and identify other threats. This would ensure that our conservation efforts and resources are invested where they're needed most – putting us on the right track towards saving these iconic turtles.