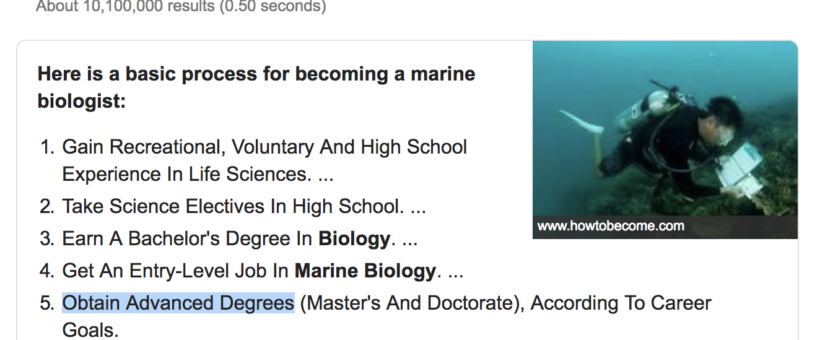 Posted by Tom Rayner
On March 13, 2019
How to become a Marine Biologist
O, to be a Marine Biologist! The wind. The sea. The salt. The sand. The Life Aquatic!
It's a dream of many, but how do you actually do it? How do you become a Marine Biologist?
First, you should get on Google and follow the advice of the, literally, 10 million articles. When you're up to "Step 5: Obtain Advanced Degrees", read this post, check if your CV is strong enough and [if it is] email it to us, because we have well-funded PhD projects available with clever, inspiring, friendly supervisors.
Where would I be based?
This round of PhD projects is based at Griffith University in South East Queensland, Australia. The main campus, where most of The Global Wetlands Project (GLOW) team are based, is on the Gold Coast, near the beach an hour's drive south of Brisbane.
The Gold Coast is an interesting, fast-growing city on a long strip of sandy beach from the southern part of Moreton Bay (which provides a nice area for field work), past Surfers Paradise, Burleigh Heads, Currumbin and Kirra, to Tweed Heads on the border with New South Wales. The lifestyle reflects an active beach and surf culture, with a sunny, sub-tropical vibe.
What is it like to be a PhD student at Griffith?
GLOW is part of Estuaries & Coasts theme in the Australian Rivers Institute. One of our PhD students, Laura Griffiths, wrote a series of 5 blog posts featuring the experiences of postgrads from the Institute. It gives a pretty good idea of the types of experiences and some of the opportunities that students enjoy. You can read the series here.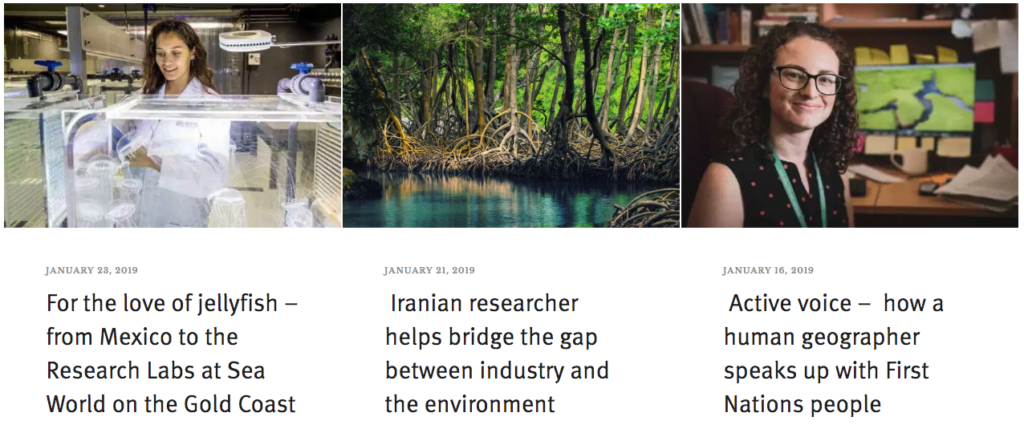 Who will I be working with?
The GLOW team is comprised of senior research staff (Professors, Research Leaders etc.), postdocs and emerging scholars (postgrad students). PhD students have a senior researcher as their principle supervisor and postdocs as co-supervisors, helping them with various aspects of their projects. GLOW students also have access to support in software engineering and science communication. There are about 30 people in the GLOW group, spread across two campuses.
What is the research environment like?
GLOW has a depth of talent across marine biology, statistical modelling and conservation planning. The research group has extensive field, lab and modelling experience. We have access to high-end cloud computing, very fast internet access, a full wet lab for marine ecology work, 3 research boats, CT rooms, meeting spaces etc. The PhD students share open-plan offices. The Australian Rivers Institute supports PhDs with professional development training courses, funding opportunities and other support.
Are there international opportunities?
GLOW also has a range of international partners who are working in some of the world's most iconic coastal wetlands, like the Sundarban mangroves in India. We also link with key NGOs working to prioritise, fund and deliver coastal wetland restoration and protection projects. This provides a huge potential for you to embark on your own adventures, linked to papers that fit with your PhD thesis.
What are the projects, exactly?
The projects we are offering are all focused on coastal wetland conservation topics and are aligned with our work at GLOW. Some also link to an ARC Discovery project on multiple stressors (that's where more than one impact is affecting an ecosystem). They are listed on our Opportunities page, with the names of the relevant postdoc co-supervisors. You can discuss the project you are interested in with them via email. They are also open to suggestions, but they need to be good ideas.
Show me the money.
PhD scholarships are available through the Australian Government, university rounds and other international schemes. You need to check what you are eligible for. GLOW can help you apply for funding.
GLOW is offering $10,000 funding to approved, enrolled candidates to spend on their research projects. This is in addition to $15,000 operational funding that comes with a PhD scholarship (so $25,000 total). This is a great opportunity to get things going without having to first apply for money to actually book boats, buy equipment for your experiments and so on.
What style of supervision and lab culture can I expect?
The GLOW lab group is fairly close knit, supportive and quite laid back. We meet most days for a casual, mid-morning coffee and on Friday afternoons for a slightly more formal seminar series. Students, staff and visiting researchers present mini workshops, practice their conference talks, report on projects, or discuss relevant papers. Every second week or so, we go to the pub to catch up socially.
Ok, sounds good, who are you looking for?
These are our Essential Criteria for potential students. If you do not meet ALL of these, please do not apply because we will not reply. We simply do not have time to reply to unsuitable candidates. We are looking for high-quality candidates.
A 1st class Honours or Masters degree in a relevant field.
Enthusiastic references who will sing your praises and vouch for you.
Evidence of ability to project manage.
To have the best chance of winning a scholarship you should also have published a first authored publication in an internationally recognized peer-reviewed journal. It is essential that international candidates have a 1st authored publication, we will not accept applications from international candidates that have not lead a publication in a peer-reviewed journal (as they won't be competitive for Australian scholarships).
No worries. I'm in. Now what?
Email your CV, a document addressing the 5 selection criteria above, and a cover letter explaining your interest to the staff member of the project you want to do.
Then what?
Wait for your contact to get in touch. If you have addressed the selection criteria, this won't take long.